Hey, I'm Kass.
I'm a Canadian country girl born and raised in a small town. My husband and I live in Waterloo, a city West of Toronto where I'm a stay-at-home mom of two crazy little boys, Jack (3 1/2) and Max (2). I have always pictured myself having three children, but after having two boys close in age, I'm not ready to be outnumbered! I absolutely love this stage of life and I'm really enjoying the adventurous nature of our two boys. Truth be told, I love boys and I'm so proud to be a boy mama! But there's also that curious wonder of what life would be like having a little girl.There's no guarantee I will have a girl if we decided to add another to our gang, but I also love the thought of having three boys; it warms my heart either way :)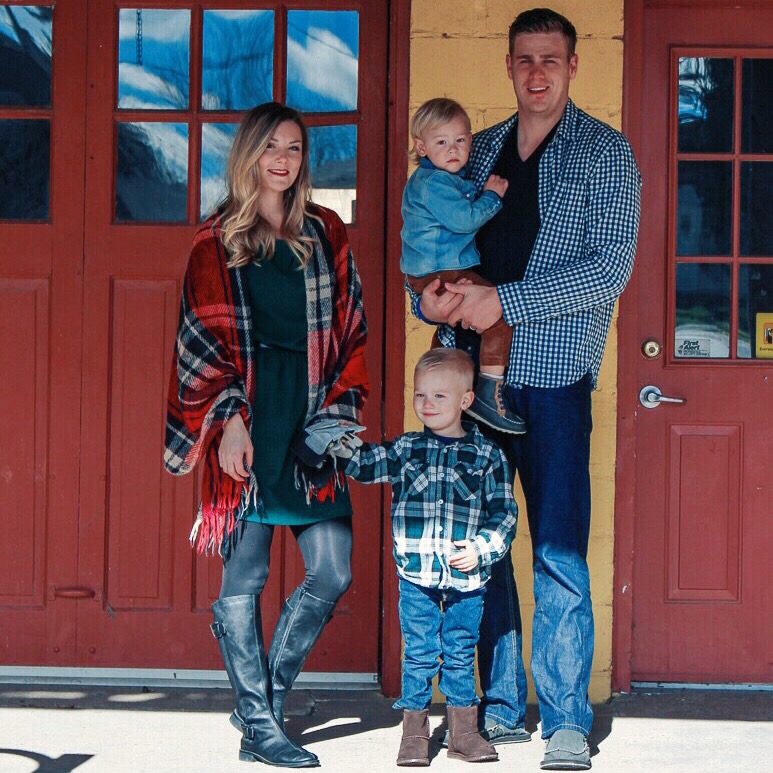 So I live in a household full of crazy rambunctious boys, husband included -- What does our typical day look like!?
My husband gets up at the crack of dawn to head to the gym, between that time and 7am, my oldest storms into our bedroom and hops in bed with me. Immediately after, our youngest Max is yelling "MUMMMY MUMMY" from his crib. I usually get him and bring him into our bed and we all watch Paw Patrol. Dad comes home and Max runs downstairs to greet him and eat over easy eggs with him. I'm not a morning person these days so I lay in bed for as long as possible until one of the kids pulls me out of bed, then its time to pour some coffee and get breakfast on the go.
After breakfast, we all get dressed, brush teeth, pack some snacks and we head to our gym. I enjoy working out, most of all because it really pushes me to get out of the house and to get my day started + I get an hour or so to myself! When we get home from the gym it's usually around 11:30am and time to make lunch. Our lunches are usually left overs from dinner or the boys love chicken salad wraps, mini homemade pizzas or cheese, meat, crackers and cucumber. The boys usually climb all over the counter and help me prepare lunch. I have to keep an eye on that Maxy-boy... he's always getting himself into trouble!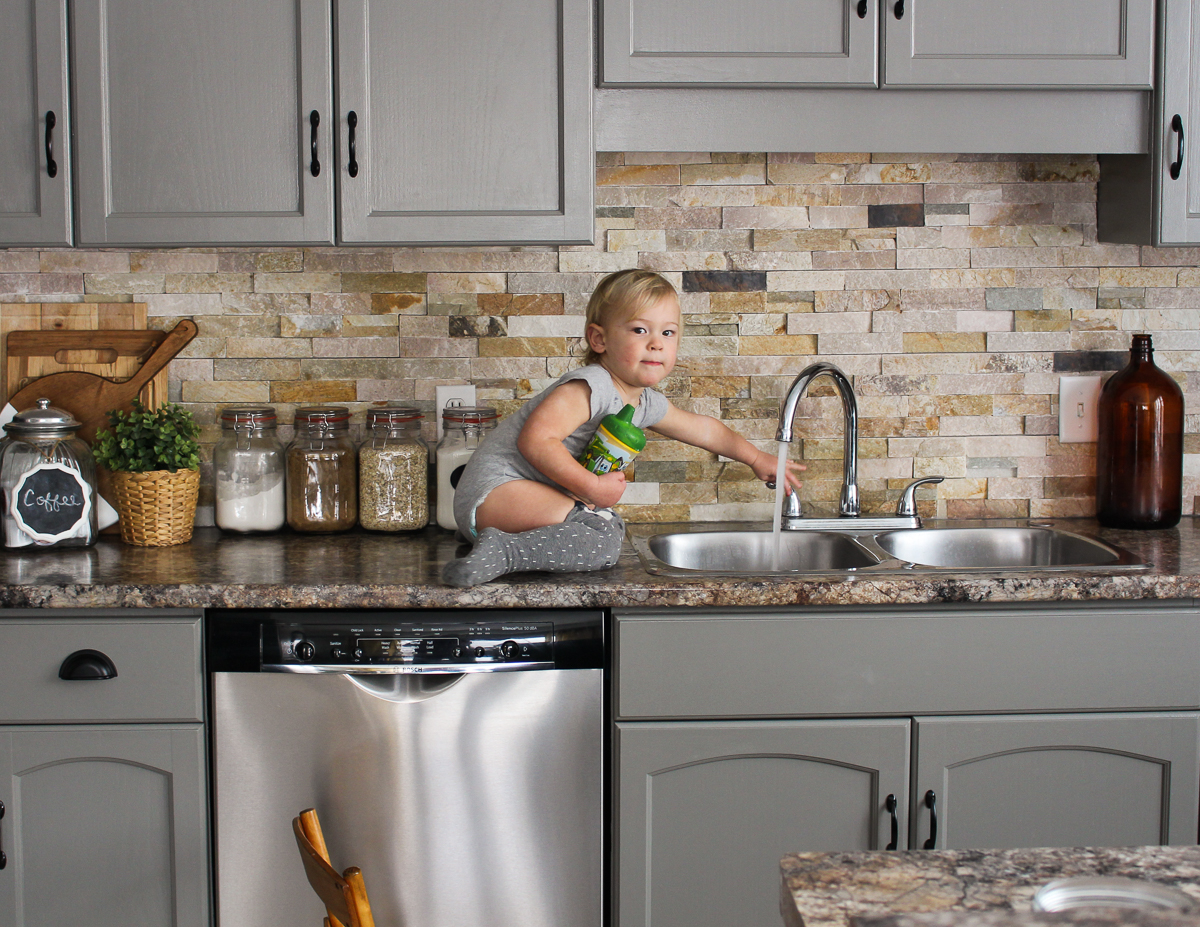 After lunch, Max goes down for a nap and it's mine and Jack's down time. He usually will watch a few shows on the ipad or go outside and play while I blog or finish up one of my latest projects I've got kicking around, the last project I completed (and oh was it ever a big one), our
kitchen cabinet makeover
! When Max wakes up, the boys usually carry on their day by playing together outside. Since spring is nonexistent in Canada right now, we've been cooped up indoors and baking a whole wack-load of cookies!! Click
here
for the ultimate chocolate chip cookie recipe, I promise they're super delicious!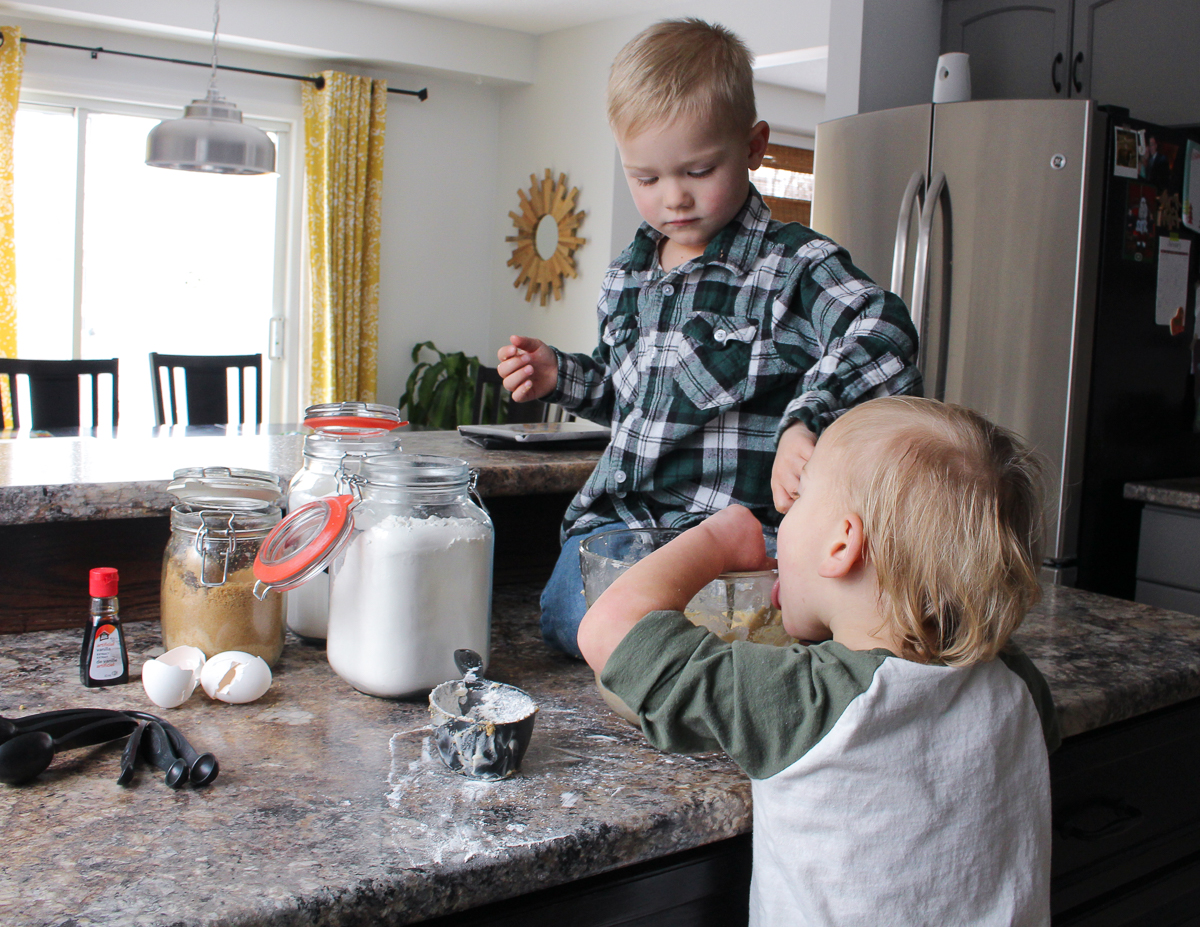 When it's summer, we spend our afternoons outside, playing in the sprinkler, playing in the teepee, or visiting our local park and feeding the ducks. My guys can't get enough of the outdoors and I love it just as much as them (but only when the weather is nice). Nature is so beautiful, I want my kids to go get dirty, play with bugs (as long as they don't bring them indoors, lol) and just run wild with their imagination! When I was a kid, I used to spend hours outside playing house in my tree house, I legit had the best "house in a tree" that my dad built; it had a fenced balcony, ladder and yellow slide. It's where a lot of my childhood memories come from. Summer is always the best on my parents farm, there's always so much to do from fishing in the creek by the bush, jumping all over the hay bales or going on argo rides around the farm... endless amount of fun!!
Brent usually gets home from work around 5:30, both boys run to the door to greet him and they run upstairs where they wrestle on the bed while I finish cooking dinner without any little distractions ;). We've been eating super healthy lately, and by that I mean we eat a lot of chicken and veggie concoctions. I usually add some sort of gain/carb into the boys meal, so if we make steak fajitas the boys will eat theirs in wraps with cheese while Brent and I will make ours into salads. Eating healthy is the best habit you can teach your children, its a huge part of all of our lives and something my husband and I have really implemented into our lifestyle. But lets be honest... there's the odd time we will load the kids into the car and hit up a DQ or McDonalds, everything in moderation, right!
Dinner time seems to be the busiest time in our household, everyone is hungry and hyper because dad's home. Jack loves to ramble on to Brent about his day and how he got charged at by a bull (Jack loves to make up stories), we even call him Papa Joe the farmer and I'm known as Cindy his wife, lol kids and their funny imaginations!!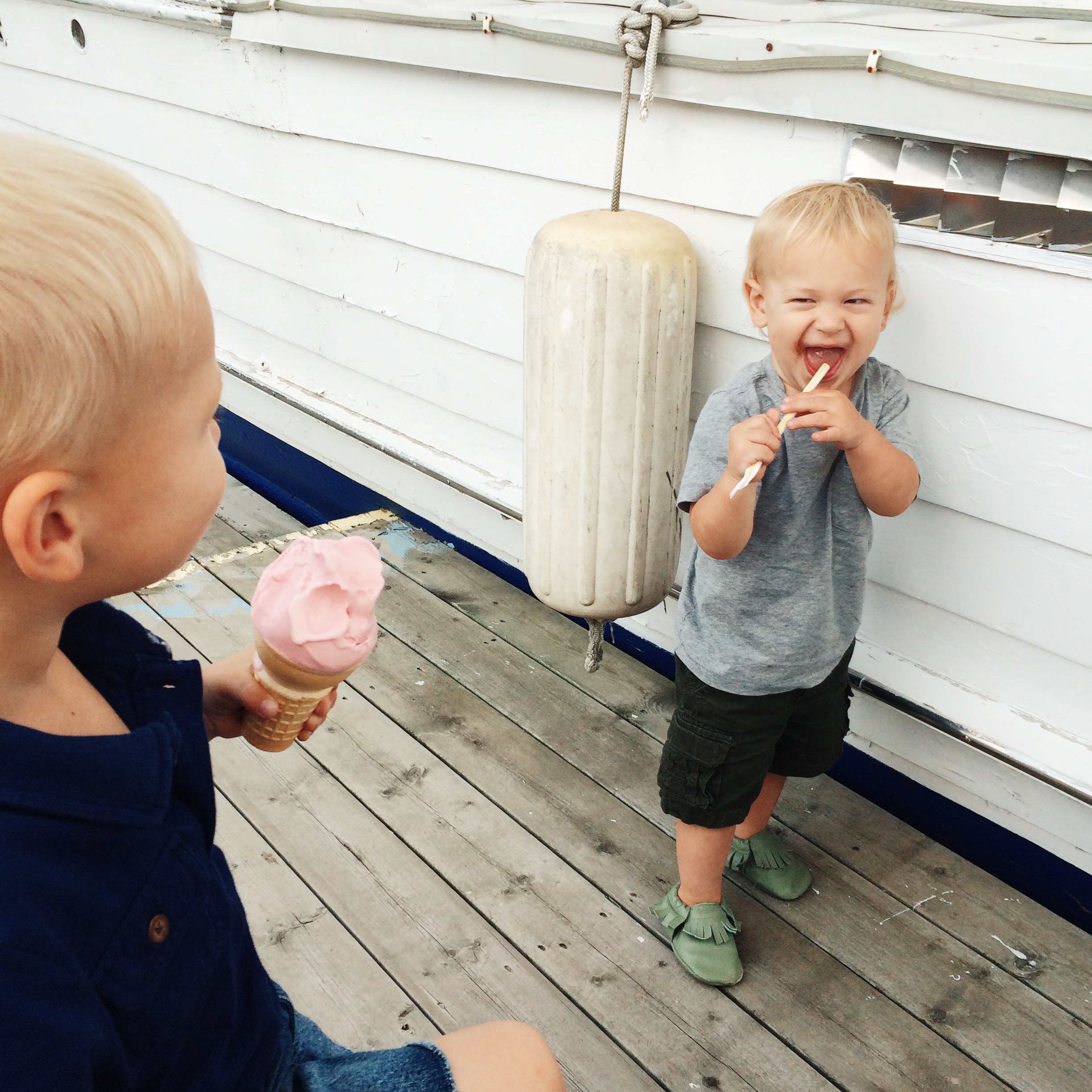 After some down time as a family, baths and stories, we put the kids to bed and my husband and I have a few hours to ourselves! Sometimes when we don't have the kids for a day/night, life seems peaceful; we don't even know what to do with ourselves. I guess we never really experienced life living together without kids, but we wouldn't trade it for the world; our busy, charming, and mischievous little boys bring us so much love and joy. At the end of the day, it doesn't matter if the bed is made, if the dishes are put away or if the laundry is folded, its the full hearts in our home that matter the most.
I've always had this quote on my phone, and it really hits home with me -- "I remember the days I prayed for the things I have now"
Life gets busy, we get carried away, but each night we lay in bed dreaming and praying, sometimes for the things we long to have or for the peace and protection over those we love, there will always those few minutes of silence, reflecting on everything before you fall asleep. 5 years ago I wouldn't believe I would be where I am now in my life, it never dawned on me that I would have a family in my early twenties; it was something I had always eventually wanted after I had a career, got married and enjoyed life before kids bombarded into our lives.
My path wasn't what I had planned for myself, but it's become the biggest blessing in my life. I couldn't imagine my life without my children or husband nor would I be sitting here sharing my family and connecting with you. I could never have imagined my life this way, during this time, but God knew and I trust him.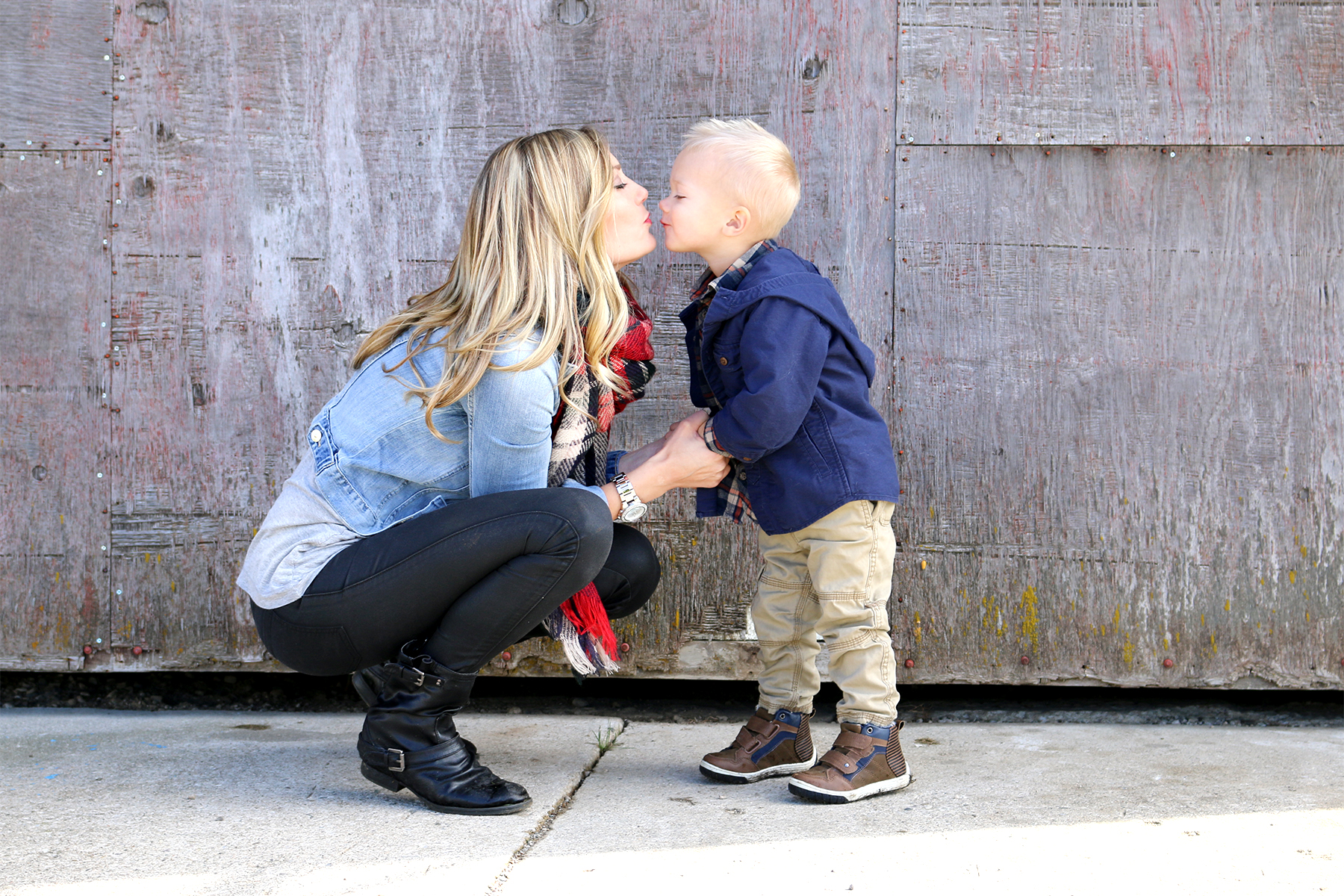 Thanks, Kassandra!